As promised here is another DIY project I just finished for my booth display. It was really easy to make and works great to display my vintage game jewelry. I inherited these two small shutters from some friends of mine and they have been sitting in the garage for two years. You can find shutters for cheap at second hand stores, yard sales, or Craigslist. You may also be lucky enough to find a good pair of shutters or shutter closet doors on the side of the road during a large item city wide dump or house renovation.

What you need:
1-2 pairs of window shutters (Size depends on what you intend to display and how much. You can also use wood shutter closet doors and cut them down to make larger table top displays)
screw driver
hinges and screws (if your shutters don't already have them)
screw hooks or string
paint (as necessary to spruce up or change the color of your shutters)
To start you'll want to clean your shutters and paint them as needed. Mine came with a natural vintage white finish,which I liked, so I left them alone. However, if you aren't as lucky to find something you like as is you can create your own vintage finish or paint them bright, fun colors like the samples below. If your shutters didn't come with the original hardware you'll need to purchase the appropriate size hinges before completing the next step.
Depending on how many shutters you have (2, 3, 4, etc) you'll install the hinges to fold in the opposite direction. Example, I had two full shutters with two doors each already on hinges. I left those doors as is and put a third set of hinges on backwards to connect the two. That way it folded like an accordion as shown above. At this point you're pretty much done, all you need is a way to display your product.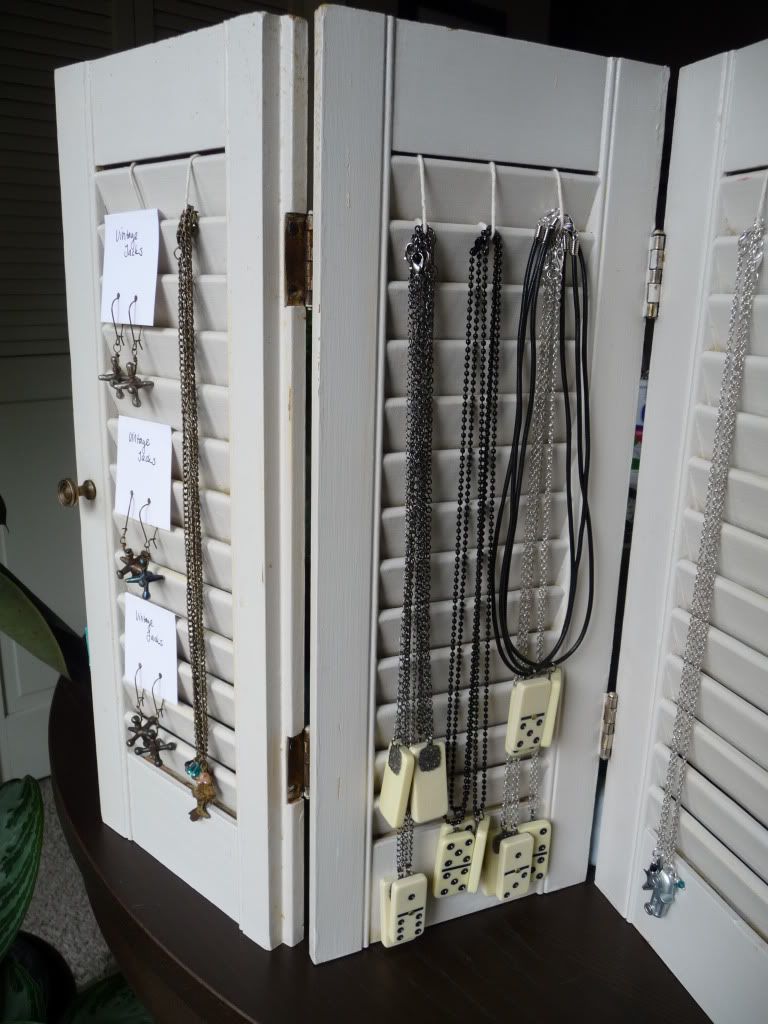 I decided because I didn't want to ruin my shutters in case I wanted to use them for something else down the road I'd use string to attach my jewelry temporarily. With the string the jewelry stays in place and I can simply fold the shutters up and go. I am sewing a special bag from scrap canvas that helps keep the jewelry steady during travel. The string also allows me to have a space above for signage and pricing.
There are many things you can do to display products on shutters:
Install hooks and/or drawer knobs instead of string along the top and you can hang jewelry, clutches, ornaments, etc.
Put a wood back on your shutters, paint it to match and display note cards and/or paper goods like sample A below.
Put your jewelry on business cards, fold them and hang them on the shutters as I've done with the jacks in the photo above.
Fold your product and slip it through the shutters like they've done with the wallets in sample D below. This would also work for note cards, linens, fabric products, etc.
Think big. Use full size closet shutter doors to create free standing displays for bigger products like they've done in sample C below or to enhance the feel of your space like they've done in sample B.
Get creative with embellishments or signage like they've done in sample A with chalkboard paint.