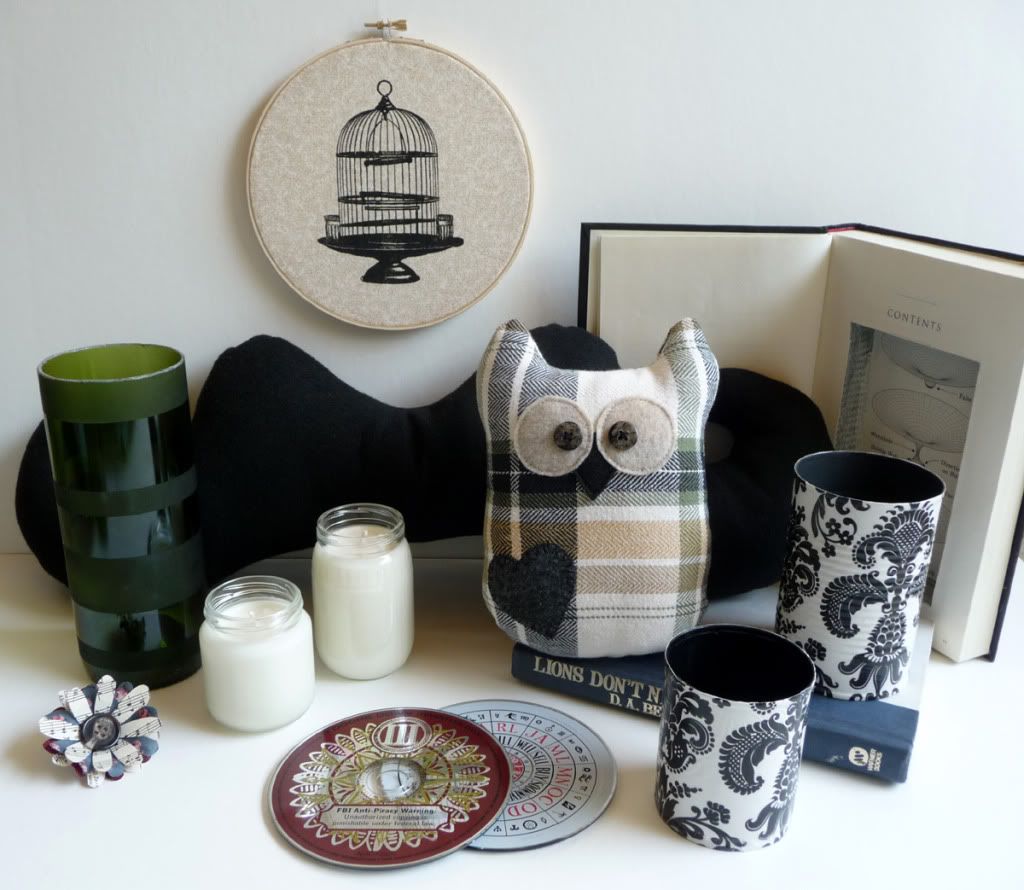 R+R Design has a new name and a new look! R+R Design will re-open as
lost little things
in January 2012. In order to improve my brand and expand my shop to include more vintage inspired items I made the decision this fall to change my name. lost little things will carry all the same great recycled products that I currently carry but I will be expanding my product line to include more vintage screen printed home decor, game night jewelry and home decor, geekery, re-purposed vintage pieces and more.
You'll find that I've copied over some of my favorite blogs of 2011 from the Restyle, Reuse, Redesign site. You can still find all my old blogs at
rrdesign13.blogspot.com
but I will no longer be writing there. I will now be writing here on my new site with an emphasis on my shop, vintage inspired design, crafts, my new baby boy, thrifty finds, craft shows and lots more.
So here's the technical details....
My R+R Design Etsy shop has been shut down for the month so I can focus on
Blue Genie
and spend time with family and friends. This week I will be transitioning over my current Facebook fan page and Twitter profile to the new shop name and logo. So don't freak out!! Please stay a fan of my new shop for all the latest updates, photos, shows and more.
As you will notice my "SHOP" link takes you to a Big Cartel site where several of my most popular products are already in view. Over the next couple weeks I will be working to develop this site with a larger selection of products than were previously available on Etsy. Don't worry, I still have an Etsy shop (
lostlittlethings.etsy.com
) and will continue to have a presence there too. However, I opened my new shop before Etsy announced the ability to change names so please, please, please if your a current fan go to my new shop at
lostlittlethings.etsy.com
and ♥ me! Both of these sites will be active with new products for sale starting January 2nd, 2012.
In the mean time you can keep track of me here at
lostlittlethings.com
or on Facebook where I will continue to blog and keep you updated on new products and Blue Genie.
There's more! To kick off the new shop and the new year I'm giving you a chance to win a custom set of
Bottle Cap Wine Charms
and a
TX State License Place Ornament
!! There are several chances to enter. Here's how...
1) Follow my new blog! Become a follower of lostlittlethings.com and leave a comment below about the new website.
2) Blog, Tweet and/or Facebook about lost little things, then come back here and leave a comment with the link.
(you can leave up to 2 links for a total of 3 chances to win!).
The winner will be chosen at random and announced on January 2nd in correspondence with the official opening of the new site. You can leave comments for your chance to win until midnight on January 1st, 2012. It is truly chosen at
random
so family and friends are welcome to enter! I will also be having a opening sale on my Big Cartel site starting January 2nd. For a promotional code to receive 25% off your entire order please email me your address at lostlittlethings@gmail.com.
P.S. lost little things may not be available until January but you can still find R+R Design at
Blue Genie Art Bazaar
until December 24th!
Thanks!! I ♥ my fans!